Family Access (Skyward) Login & FAQ
Welcome to Skyward Family Access
Skyward Family Access is a secure web application that provides you with direct access to your child's information via the Internet and allows you to view your child's attendance, grades, schedule, progress, assignments and emergency information. In addition, you can set your preferences (text, phone, email) for our notification system, Skylert. You can download the mobile app for your smartphone or tablet!

Skyward Family Access Accounts

Family Access accounts are created automatically upon registration of your student (custodial documentation may be needed in some circumstances). Login information can be obtained by contacting your student's main office or by emailing enrollment@phasd.us.

If you do not have an account, please complete the PHS Family Access User Agreement Form and submit it to your child's school or the District Offices.
PHS Family Access User Agreement Form

Students should inform their teacher of user name and password issues.

Translation Options for Family Access
Parents and Guardians can choose to display their Family Access screen in other languages by using the built-in Google Translator.
Most Common Issues for Parents When completing Online Student Verification

We recommend filling these forms out on a computer. You can work on them using a tablet or phone browser, but it is more difficult. NOTE: The forms will not show in the actual Skyward app itself at all.

1. Will not let me complete - You are not selecting the button at the bottom of each page that says "complete step # and move on to step #". If you do not see this button, make sure your browser is in full screen mode. This button is sometimes hidden if the browser is not full screen
2. It will only let me complete certain sections - Only Family 1 members have edit rights to all of the steps. If you cannot edit certain pages, you may be listed as Family 2 and have view only rights. If you think this is an error, please contact the school directly.
3. I don't know my login/password - Please see directions below to reset your password
4. I don't see this in the App - This is not able to be done in the App. Please complete on a computer or phone/tablet browser
Password Reset
If you cannot access your account or need your password reset, please contact the school directly. You will then receive reset instructions for your account
NOTE: You will have to reset your password using a computer or phone/tablet browser, not the app. It will not work in the app.
Skyward App -How to Submit an Absence Request
1. Submit an absence from the mobile app - This would allow Guardians to submit an absence request by using the mobile app.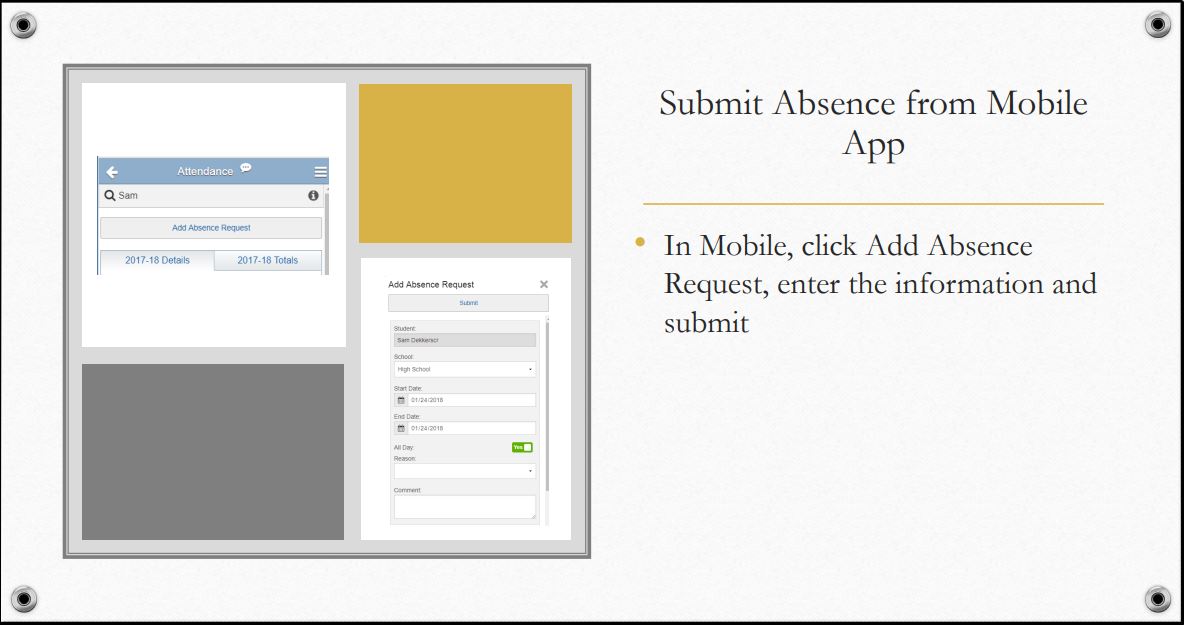 2. Conference Scheduling is now available in the Mobile app. The new conferences area of Mobile supports parent teacher conferences.
(Note: Only available at schools allowing scheduling of Conference times in Skyward. Contact your school to see if they participate).